Get Ready — The Fall Grand Avenue Festival WILL BE happening On Sunday, October 15th!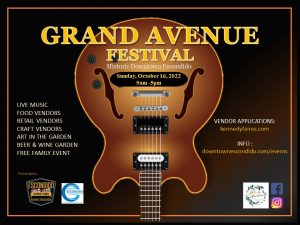 With the new layout design that places all the street vendor booths along the center of Grand Avenue, the storefronts of our vibrant downtown businesses will be easily seen and accessed by attendees.
This Year, the Grand Ave Festival, will take place in our historic downtown on Grand Ave from Escondido Blvd to Ivy. You'll be able to shop from hundreds of vendors for unique hand-crafted gifts and imports, enjoy international cuisine and local entertainment at the Maple Street Community Stage. New this year will be a Beer & Wine Garden @ Maple & Grand. And there's more…Such as the Creative Kids Corner @ Juniper & Grand that will feature Robotic Team Demonstrations from local High Schools, and the ever-popular Art In The Garden at Heritage Garden!