Greater Escondido Chamber Committees work hard for YOUR BUSINESS!
Leverage your Chamber membership by joining a Chamber Committee.
By joining a Chamber of Commerce Committee:
You become directly involved in the events shaping our community.
You work and network with the Chamber and Community leaders.
You and your business are directly visible within the Chamber and Community.
Executive Committee (Appointed from Board)
This committee is made up of Nine members of the Board of Directors to make up the Executive Committee. They meet each month to create and administrate Board/Chamber policy and direction.
Economic Development Committee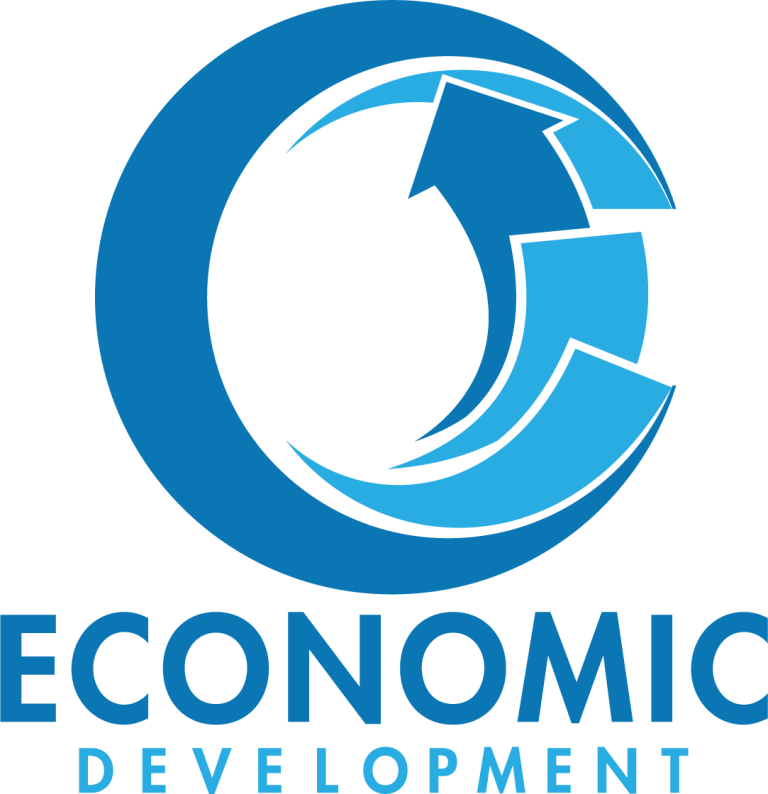 The Chamber's Economic Development Committee works to assist, retain and grow existing businesses in Escondido while striving to attract new businesses and ventures with the focus on positive economic impacts and job creation for our citizens. Also focuses on the local and regional economy including projects and policies that impact the city's ability to thrive, grow and prosper.
EDC monthly meetings are held the second Thursday at noon where we bring the most crucial topics impacting Escondido businesses to light. Direct access to city officials is key as we partner to enhance the business experience in Escondido, from start up to expansion.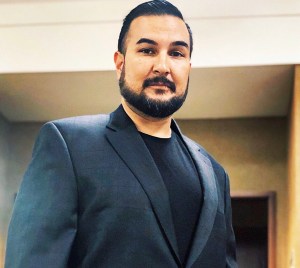 Economic Development Committee Chair:
Wehay Quisquis
San Pasqual Economic Development Corporation
Contact: info@escondidochamber.org
Past Economic Development Committee Meetings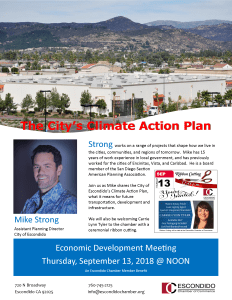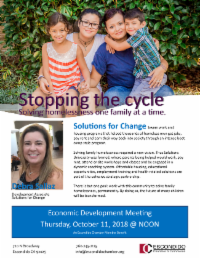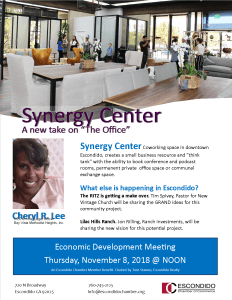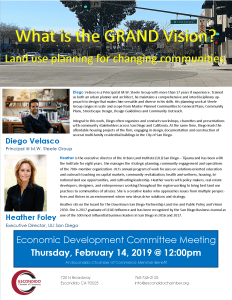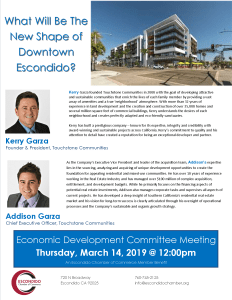 Government Affairs Committee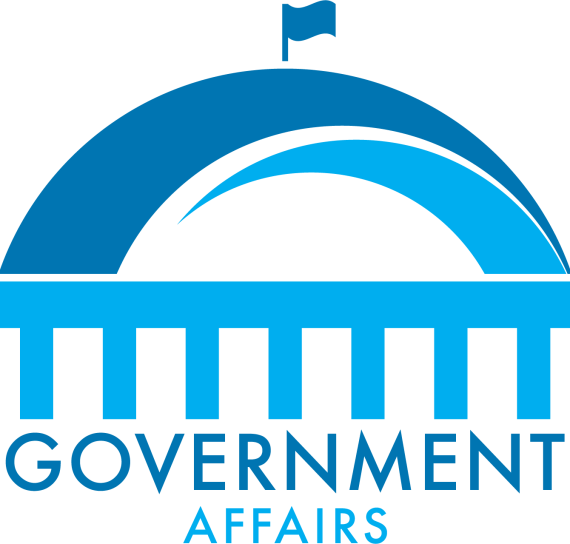 The Chamber's Government Affairs Committee works to create and sustain a favorable business environment in which all businesses can grow and prosper through the monitoring of legislation and influencing of governmental decisions on behalf of the interests of our members. This committee provides a basis for the Chamber to act on local, state, and federal governmental issues and evaluate political candidates.
What is the Greater Escondido Chamber of Commerce Government Affairs Committee?
The GAC, as we call it, is a very valuable Escondido Chamber member benefit.
We hold monthly meetings and present informative, current, relevant topics that impact and affect businesses and citizens of Escondido and the surrounding areas.
Our meetings typically include presentations by members of the Escondido City Council including the Mayor, CA Senate and Assembly members, U.S. Congressional members, other City, and State representatives as well as business owners, developers and other entities interested in doing business in our region.
Topics have included a minor league ballpark for the Padres, funding a new library, management of the library, the state of City's finances, pension obligations, attracting a developer for the old Palomar Hospital and other important topics from monthly City Council meetings, legislation affecting water usage and costs and many other critical issues that affect our local businesses.
The GAC provides a platform for local Advocacy.  The voice of the Escondido Chamber of Commerce is well respected and has real power.  From our monthly meetings, we routinely support or oppose various State and Local bills that we feel will either help or hurt the businesses and residents of Escondido.
Elected officials need to hear our voice in order to guide their decisions. Our recommendations of support or opposition in conjunction with other Chambers of Commerce and Advocacy groups do an excellent job of holding our elected officials accountable.
The GAC is a vital and important part of the Chamber of Commerce.  The best way to make the most of your Chamber membership is to be involved.  Please consider joining the Chamber and making your voice count by being a member of the GAC.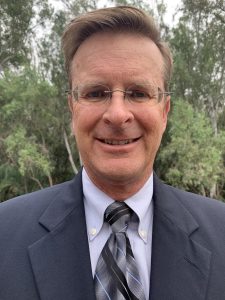 Government Affairs Committee Chair:
Stan Weiler 
Howes, Weiler, Landy - Planning & Engineering
Contact: info@escondidochamber.org
Past Government Affairs Committee Meetings
Government Affairs Committee Charter
MISSION
The mission of the Escondido Chamber of Commerce Government Affairs Committee is to
supplement the work of Chamber staff in monitoring and influencing governmental decisions
on behalf of the interests of members of the Escondido Chamber of Commerce.
TASKS AND ACTIVITIES (STAFF AND COMMITTEE)
Monitor the activities of local and regional governmental bodies and identify issues
that might affect Chamber members.
Research and analyze policy issues that affect member businesses and advocate for
policies that foster a sound business climate for Escondido area concerns.
Review issues and develop Chamber positions for consideration by the Board of
Directors.
Identify and monitor proposed legislation.
Provide a voice for Chamber members before the city council and various city boards
and commissions.
Encourage Chamber members to contact legislators and other appropriate officials to
promote the Chamber's pro-business positions.
Continuously foster working relationships with legislators, administrators, and their
staffs through invitations to appropriate Chamber functions and regular meetings
with officials.
Communicate the Chamber's position on key business issues to the membership and
general public.
Educate and involve Chamber members in governmental activities and policy that
affects the business community.
Conduct meetings to provide updates on current issues affecting the business
community.
Host guest speakers and regular discussions with elected and appointed officials.
Assist in the coordination and conduct of candidate and elected incumbent.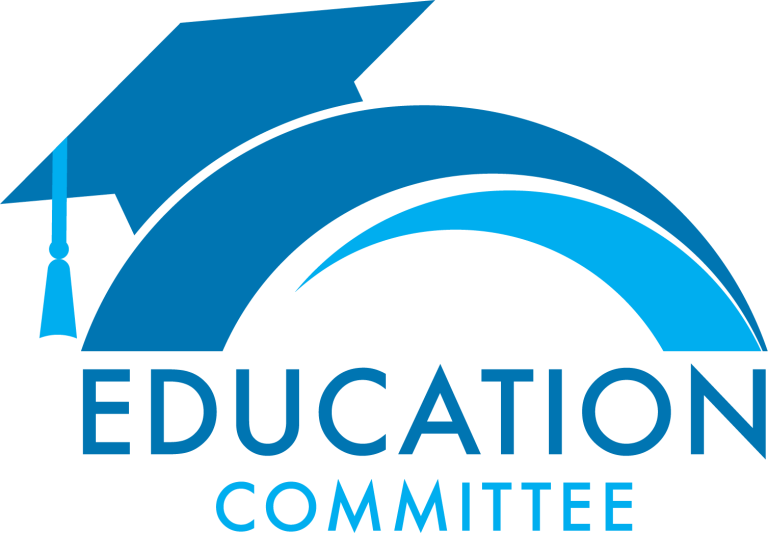 The Escondido Chamber's Education Committee is focused on connecting leaders in education to leaders in the business community. Their goal is to work together towards workforce development, cutting edge curriculum and educational resource sustainability.
The committee will focus on connecting Education with Business through many factors including:
High School and Jr. High Internships
Community Service Hours for HS Seniors
Engaging with Business Leaders to connect workforce needs with educational requirements.
Enriching the education process from Career Days to Student Mentoring
A data base of businesses who wish to participate in the education of the Escondido youth will be created in order to easily connect the requests with the resources.
The committee will culminate the year by honoring outstanding educational leaders from teachers to administrators.
If you are interested in participating in this committee, join us at our meetings on the 2nd Monday* of the month. We invite those in education and business!